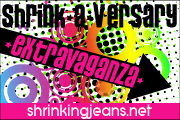 I stepped on the scale this morning and gained 1.5 pounds. Seems vaguely familiar to me as I shared about here. I have done the long term up and down thing. I need to figure out how to have loss week after week after week!
It is so easy to get discouraged and to want to give up, but I am plugging on....pushing past my frustration and perfectionism....and trying another week!
To join in on the fun with the "hood", click on the Shrink-a-versary icon in this post!!